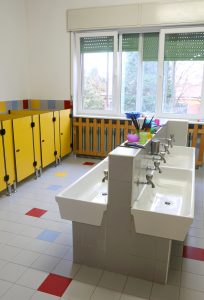 The Pennsylvania cleaning service for daycare facilities from DCCS are second to none. DCCS specializes in environmental cleaning services for the childcare industry, including school cleaning, childcare centers, preschools, elementary schools, private schools, and other educational and healthcare sites.
Services of Pennsylvania Cleaning Service for Daycare Facilities
CUSTODIAL SERVICES
Our services will monitor and make sure:
The childcare center is being cleaned daily or weekly.

You have the appropriate types of cleaning products currently being used.

The equipment being used by the current cleaning company or staff is up to date.

The microfiber mops are being implemented, and Back Pack Vacuum cleaners with Hepa filters are being used.
FLOOR STRIPPING & WAXING
Our services will monitor and make sure:
The floors are stripped and burnished

The child care center top scrubs the floors

The floors are dust mopped & damped mopped with a neutral cleaner.

The neutral cleaner is being properly diluted.

The cleaners are using the correct floor pad on the burnish.
CARPET CLEANING
We look at the condition and age of the carpets first. If any carpets need replacing, we let you know. Once the process is completed, we recommend a disinfectant be sprayed on them daily and the carpets in childcare centers be cleaned 3 to 4 times per year.
INFECTION CONTROL – COVID-19 CLEANING
With our consultation process, we look at the janitor closet to see what the current company is using. Some of the problems stem from:
Not using clean mop heads.

Not changing the mop water.

Not using the proper chemicals and products to clean the school.
Simply contact us, and we will provide you with a no-cost, no obligation consultation to assure that you have the right service at the right cost. You can learn more about the services Daycare Cleaning Services has to offer by exploring this site. For opportunities in both employment and contracting, click here.
The form below is how you can get started. Please leave your name, organization, contact information, and a brief message. We'd love to hear how we can help!
Proudly Serving: Montgomery County, Chester County, Bucks County, Delaware County